So this week has been a bit crazy with work and life. And to make things a bit more interesting, I wrote three gift guides for the blog and another publication. I cannot tell you how happy I am that it is the weekend! Starting a blog during the holidays was kind of an insane move. But I'm hoping that come January, things will be smooth sailing. Fingers crossed.
I had full intention to write about all the wonderful local events I was attending in early December. But,um…that didn't happen. Life buzzed by and all these goodies just stood in the blog queue. So today's post is quite simple. Here's where I have been as of late.

My first December event was the Porter Flea Holiday Market and preview party. Porter Flea Holiday Market is an annual modern handmade market that happens the first weekend of December. It's a much anticipated event for most Nashvillian's. All of your favorite locally made items in one place for the holidays. Such a great concept!
This year, Madewell Nashville hosted a preview party featuring Handmade Studio TN and Consider the Wldfwrs. I love preview parties. They are intimate and a slower pace, allowing you to take your time.
Handmade Studio TN is dear to my heart, as I was the first to carry her beautiful pottery line. All her new wares are gorgeous and stunningly simplistic. Consider the Wldfwrs is the newest jewelry kid on the block and on everyone's must-have list. Beautiful, delicate designs that just make your heart swell.

My favorite thing at Porter Flea was the fantastic props! The first thing you saw as you entered the market were the 3-D prism shapes designed and created by the Craftcourse Nashville duo. Over-sized paper prisms hanging in the entry, exit, on tables, in corners and the backdrop for the most fabulous photo booth. Impressive ladies!
And a big shout out to my dear friends at Bright Event Productions for the handmade Porter Flea light sign. Well done!


Every year, my husband and I attend the 12 South Winter Warmer. Also on the first weekend of December. Tickets go on sale in October and sell out in minutes. Yes, minutes. It's hands down, the best beer festival of the year. You bundle up in your finest winter attire and drink the whole day. It's kind of awesome.
Oh! And I finally chose boots for my Montreal trip. After trying on a million boots, the Sorel Conquest Carly won me over. They made their debut at the 12 South Winter Warmer. My toes were toasty, and I received so many compliments on how stylish they were. Definitely chose the right ones.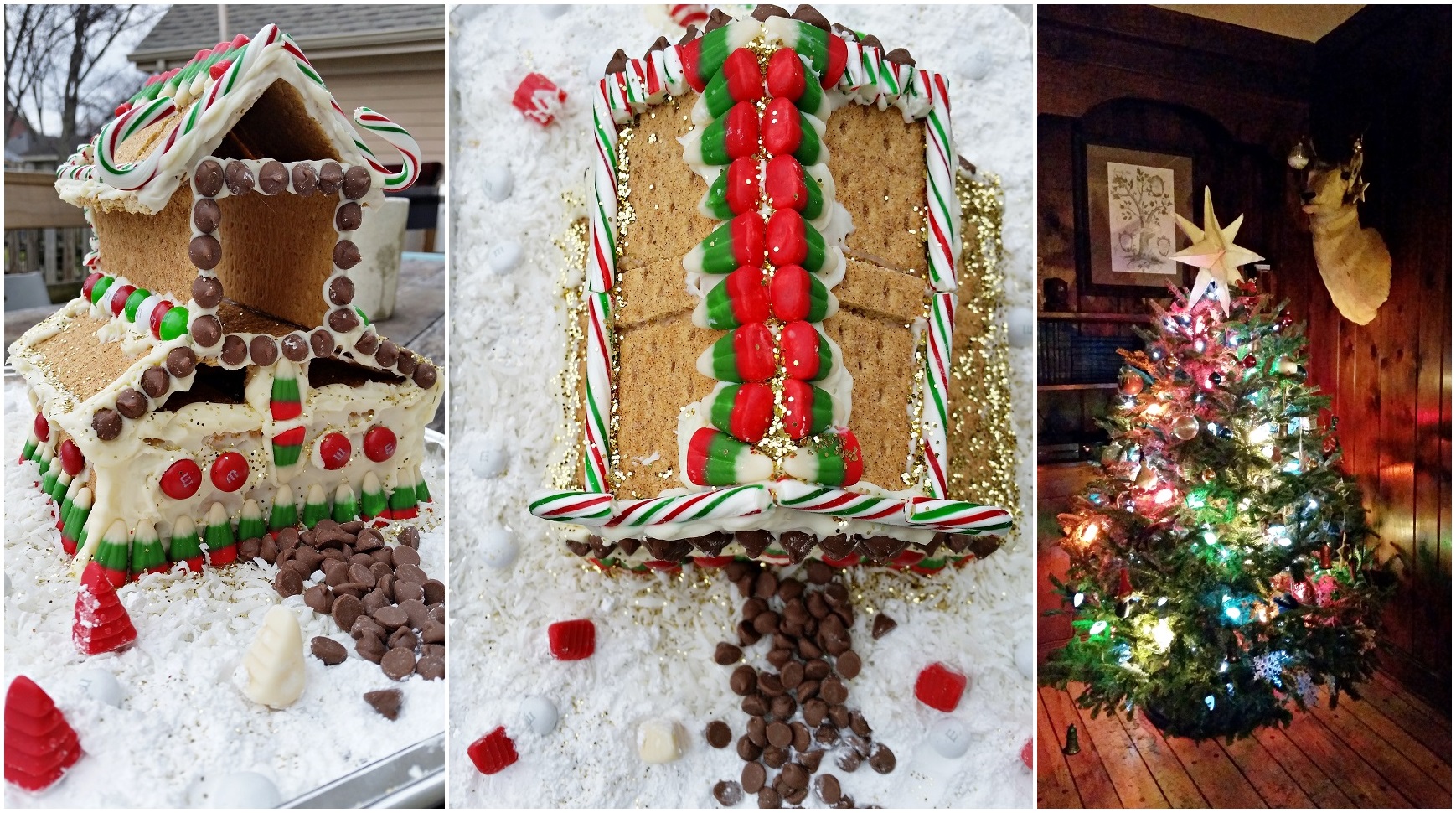 Finally, the annual gingerbread house (okay, graham cracker house) evening. For the last few years, my dear friend Kristin has hosted a gingerbread house night. It's pretty much an excuse to shut our brains off, drink wine and build ridiculous structures made of sugar. There's only one rule, leave your crazy life and perfectionism at the door. This night is not about creating beautiful things, it's about enjoying each others company.  And laughing a lot! As you can see, there is nothing perfect about my crooked house that has no door and a weird open loft on top. But it's full of memories, and that's all that matters. If you haven't created something without giving a shit, you should try it sometime. It's very freeing.
How are you spending your December days?
---