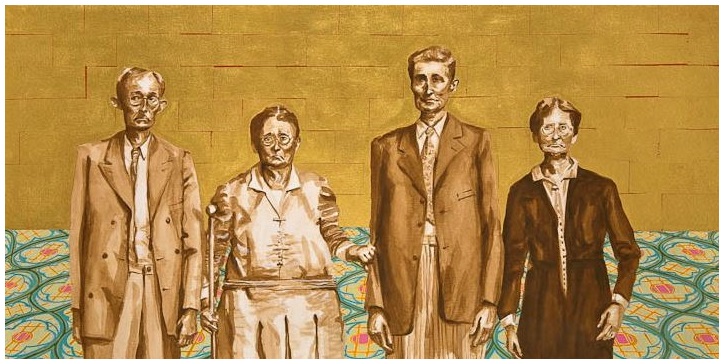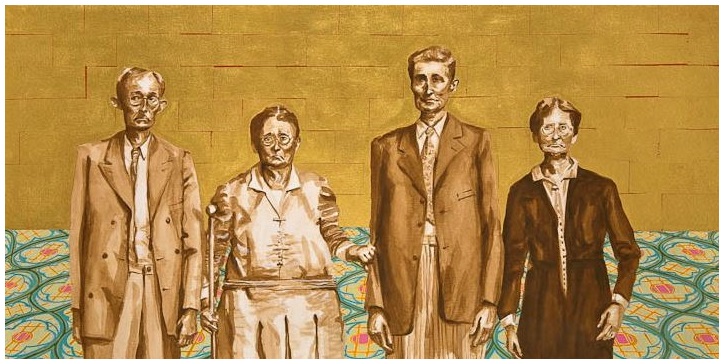 Recently, I was in Atlanta for the Home Décor Market at Americasmart. When I am at "market", I rarely give art vendors a second glance. In fact, I don't give a lot of vendors more than a glance. My job is to find the best of the best, and so much being presented at market is junk. I find myself sounding like the Devil Wears Prada "No, no, no, no, yes, no, no, no, no. Awful! Horrendous! Maybe. Absolutely not!" It's a big deal when I find a winner. And when it comes to art, I am seldom impressed. Most of the artwork is cheap imitation and not worth my time.
But! Sometimes you find gems in unexpected places. After a long day of perusing the many vendor aisles, I was about to call it a day and head home when suddenly a sweet lady popped out in front of me, almost knocking me over, and said "You have to meet my friend, Xima Lee. She's an incredible artist in Nashville, and this is her new art collection – a series of farm animal portraits inspired by her family farm". Farm animals are not usually my forte, but Flip and Homer (a cheeky goat and donkey) caught my eye and I thought "maybe this lady has something I haven't seen before". So I kindly stepped into the booth and met the darling Xima Lee Hulings.
Hulings is the quintessential Southern woman. Within seconds, I felt as though we had known each other all our lives. Her joyful Southern accent was alluring, and the excitement in her eyes was infectious. She brought me into the vendor booth as if welcoming an old friend into her home. Before discussing the paintings, we talked for the longest time about Nashville, traveling, returning "home", her family farm Harlinsdale in Franklin, TN., and all the mutual connections we shared. The woman knows everybody! And it's not hard to understand why: the woman is delightful.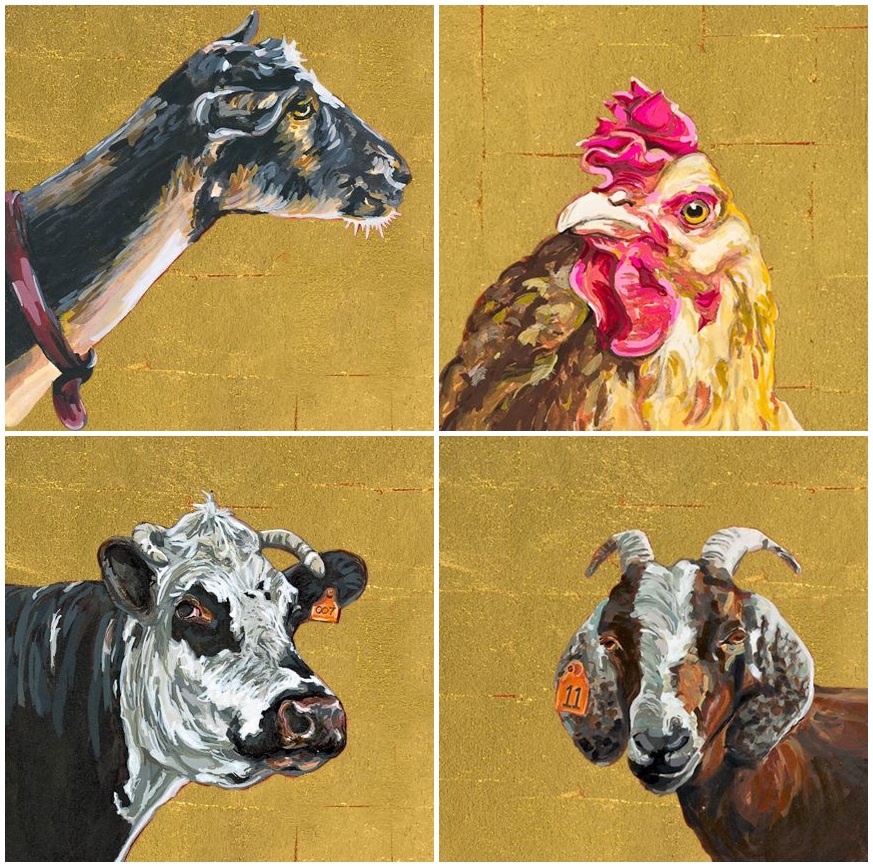 Hulings' latest art collection is called The Walking Papers Series – a series of farm animal portraits inspired by the characters she sees daily on Harlinsdale Farm. "This collection celebrates the many characters found on the farm who live their lives with authenticity and attitude. The cows, chickens, goats, donkeys, and other friends never feel the rush of time or the pull of technology but live life in the present. These portraits are meant to capture the spirit of each animal and to honor their world on the farm." This collection is a mixture of giclee prints, haystacker glass, stable and field trays, derived from her original paintings executed in watercolor, gouache, ink and pen with a 23k gold-leaf background. You can purchase these beautiful pieces online at Walking Papers Studio or in Nashville at the lovely Harpeth Gallery where they have a wonderful assortment.
Although I adore the animal portraits, it was the Disfarmer Series I found on Hulings fine art website that took my breath away. The Disfarmer Series is a collection of original paintings inspired from the photography of Mike Disfarmer. Each painting is derived from one of Disfarmer's images, using watercolors to create her subjects and then surrounding them in gold-leaf and William Morris wallpaper patterns.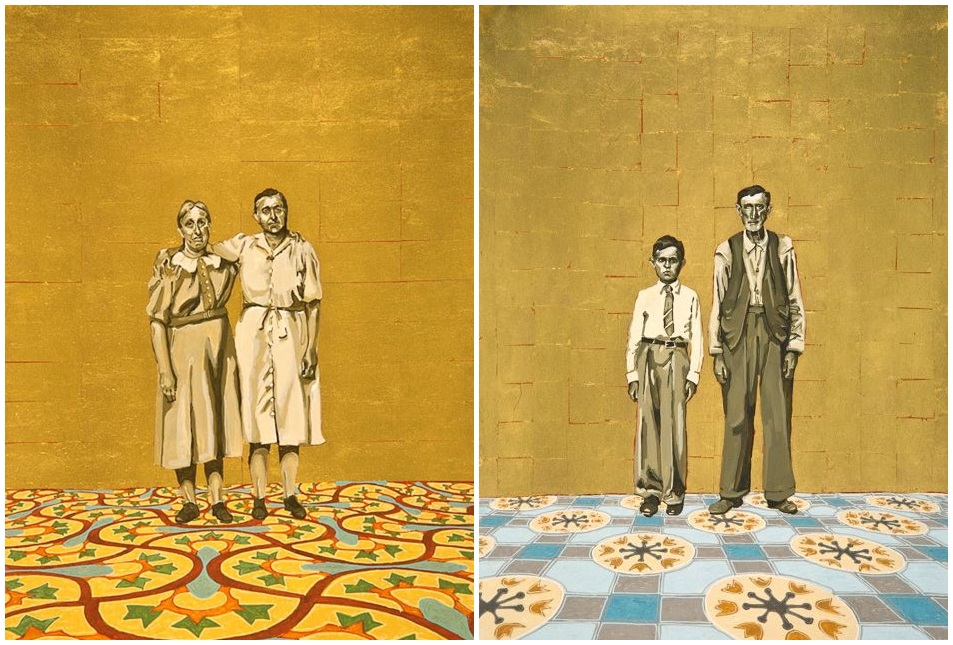 Disfarmer was a photographer in Heber Springs, Arkansas during 1910-1959. He was the town's photographer, and all day everyday he photographed ordinary people. He was known to be quite the curmudgeon, and never saw himself as an artist. But his photos were incredibly unique with haunting, mesmerizing imagery. In 2004, these photographs emerged from the small rural town and found their way into Manhattan art galleries. This is when Hulings first laid eyes on Disfarmer's photographs and was forever captivated. She spent the next several years trying to put context and shape around the feelings she had towards them.
"It wasn't until I began working with egg tempura that something shifted in my relationship to his photographs." She then moved on to acrylic ink, trying to go deeper, looking for the key to unlock all the stories. And then found herself experimenting with watercolor, where she finally found the magic.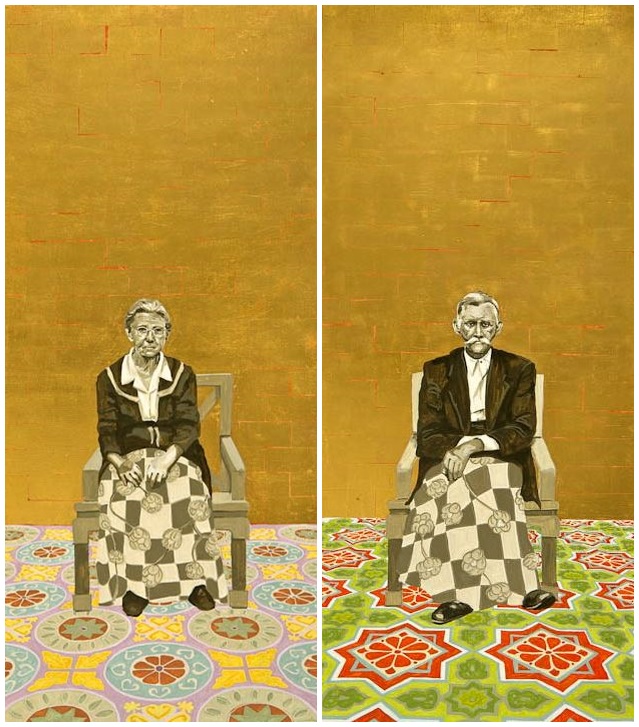 "Many of the figures in his photographs look wary, anxious and timid; the combination of visual information and emotional distance is what I find fascinating. These characters are reacting without the tainted sophistication that we do today when confronted by the ever-present camera. They are honest, raw and complex. Their faces and worn hands drew me in but their distance continues to entice me to keep looking.
No matter how many stories I can imagine of the lives documented in his work, I know that I will always be on the outside. I created patterns as a way to give each a new context and to lift them into a new world of understanding. These patterns, while a part of the narrative, keep them a bit unsteady too. The gold leaf surround is intended as a blessing of sorts; I am honored to be a witness."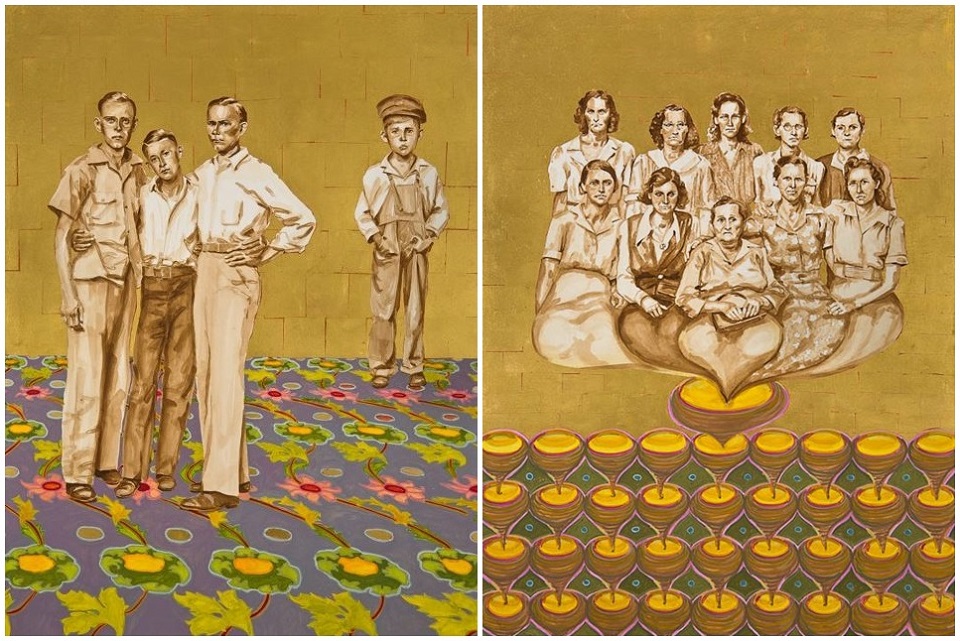 Although Disfarmers imagery drives the collection, Hulings innovation and genius interpretation is what makes this contemporary art series remarkable. My fingers are crossed that a Nashville gallery will scoop this collection up and we can all experience them in person.
To purchase a painting from the Disfarmer Series, please contact Xima Lee Hulings at www.xima.net.
---
Leave A Comment