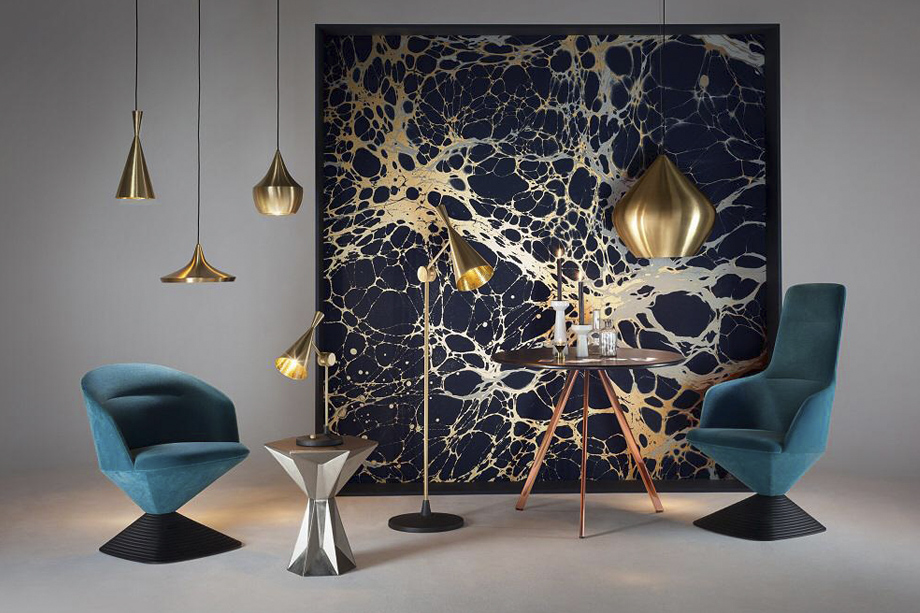 Photo Credit: Calico Wallpaper
Over the last two years we have seen various patterns pop up in fashion and home décor that are reminiscent of marble and watercolor paintings. Trend watchers have forecast numerous times that it will be the biggest trend of the year, and yet it never seems to make a huge splash. Cool patterns pop-up and then it's gone. But this year seems to be different. Hand-marbling and various manipulated ink patterns are popping up in more luxurious designs – a sign that they are here to stay. At the 2015 New York Design Week last month, marbleized and hand-dyed patterns were found in furnishings, décor, fabric and artwork. During the 2014 & 2015 fashion weeks in Paris, London and New York, various designers used fabrics covered in brushstrokes, ink-blots and watercolors. And in the makers & artisan scene, marbleizing or hand-marbling has become the latest experimental craze.
One of the reasons the marble pattern hasn't exploded in years past is the patterns were too literal. The faux marble look has been done, and each time it has looked cheap and awkward. And for the watercolor effect, the colors and style have been a bit immature. The key is to either keep it simple and use the real material/or style, or reinvent the pattern into something completely new. This year I am finally seeing a new creation – lyrical, abstract patterns with natural movement made from a mixture of marble patterns, ink manipulation, and hand-dying. And of course, the real deal is being used in furnishings and home decor as well. Beautiful white Carrera Italian Marble in tables, shelves, dressers and home accessories. Many of them paired with brass hardware and it is absolutely stunning.
What about the geometric patterns and cut-outs we saw trending earlier this year? This is where it gets exciting. The biggest trend of all is the juxtaposition of hard-line geometric patterns paired with blurred organic movement. So be on the lookout! The marbleizing and painterly watercolor trend is already trickling in. And come fall, we are going to see a whirlwind of pattern play.
CERAMIC DINNERWARE & DECOR: Tortoise Marbled Dinnerware by Tao Oudomvilay, The Gradient Vase by Leif, Modern Black and White Teapot & Cups by RK Ceramics, Rose and Gold Swirl Plates by Suite One Studio, Belay Dinnerware by CB2, Blue Ebru Marble Ceramics by Simple Life Instanbul, Botticino Marble Coasters by Anthropologie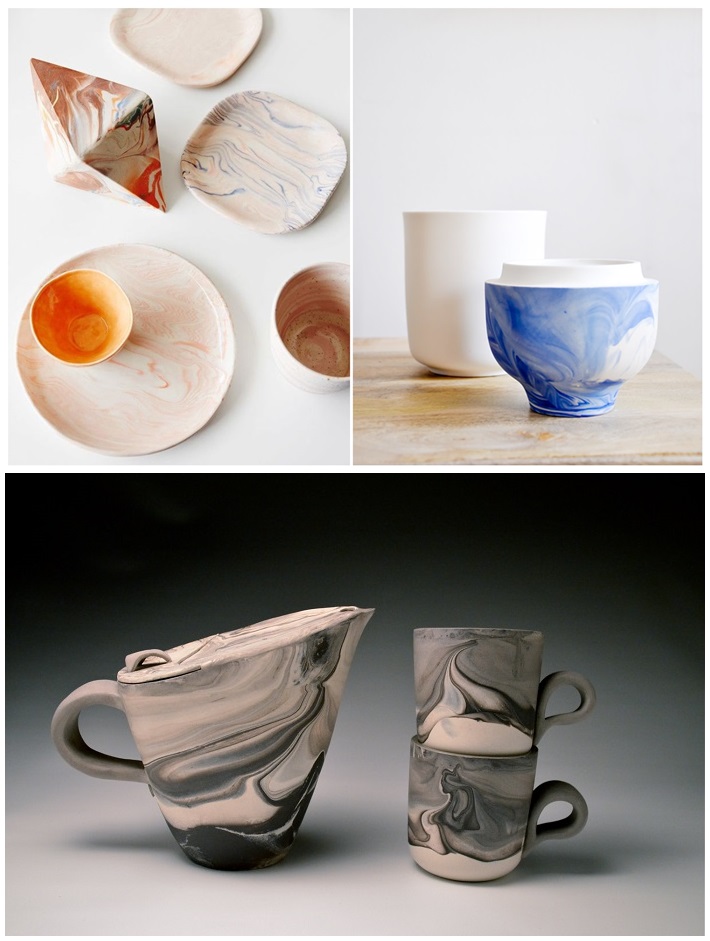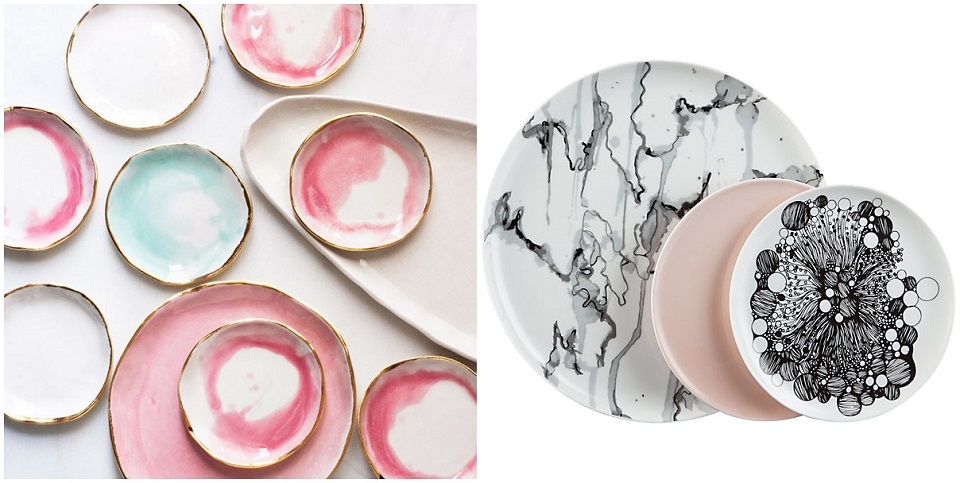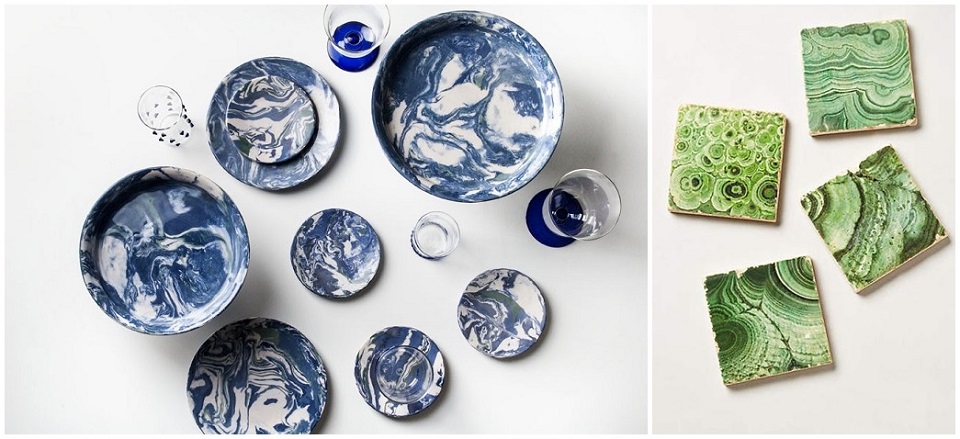 FURNISHINGS: Surf Coffee Table by Worlds Away, Anne Marble Dresser by Steven Shell, Marble & Brass Wall-Mounted Shelf by CB2, Elke Side Table by Crate & Barrel
AREA RUGS & WALL FINISHES: Night Slate by Calico Wallpaper, Marble Wall by Kelly Wearstler, Marble Rock Zebra Rug by Lulu & Georgia, Droplet Rug by Michelle Weinberg, Banshee Rug by Surya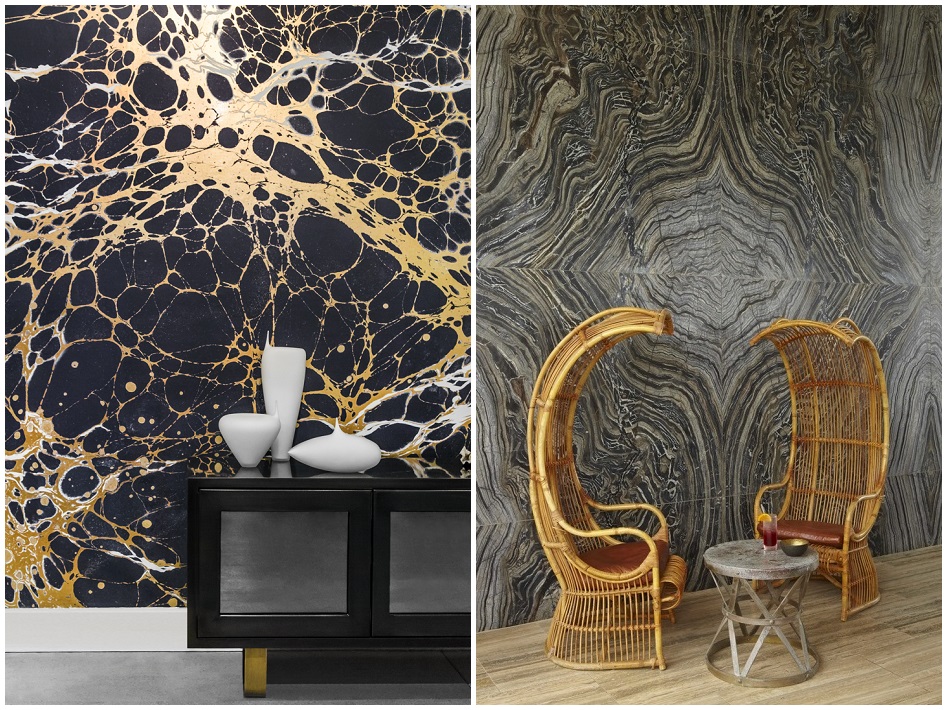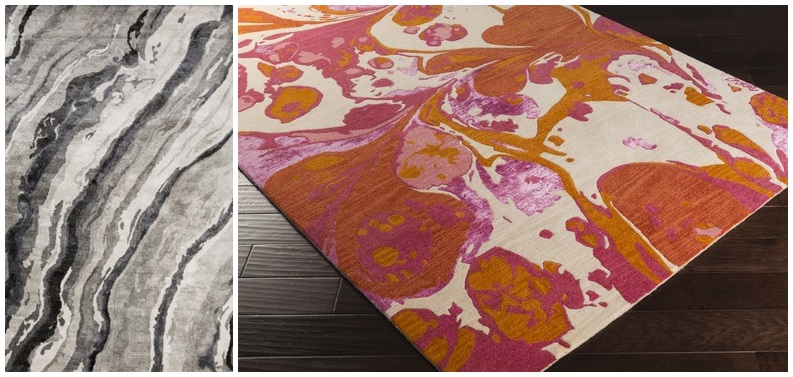 PILLOWS & LAMPS: Marble Cushions by Ferm Living, Marble Cascade Pillow by CB2, Carrera Italian Marble Holiday Rose Pillow by Society6, Casa Bonita Indigo Pillow by Scout & Catalogue, Flynn Lamp by Arteriors, Swirl Orange Table Lamp by Safavieh
DIY: Marbleized Ribbon by Oh Happy Day and Marbleized Paper by A Beautiful Mess
---