Wallpaper must be in the air! Last Saturday I wrote about the wallpaper trend and it's big comeback for my 12th & Broad column. Since then, local, national and international blogs have posted like mad about wallpaper. There hasn't been a day this week where I have not read about this trending decor element. I love when my mind is tracking simultaneously with other creatives. If you missed Saturday's post, here is a chance to catch up. Be prepared to swoon…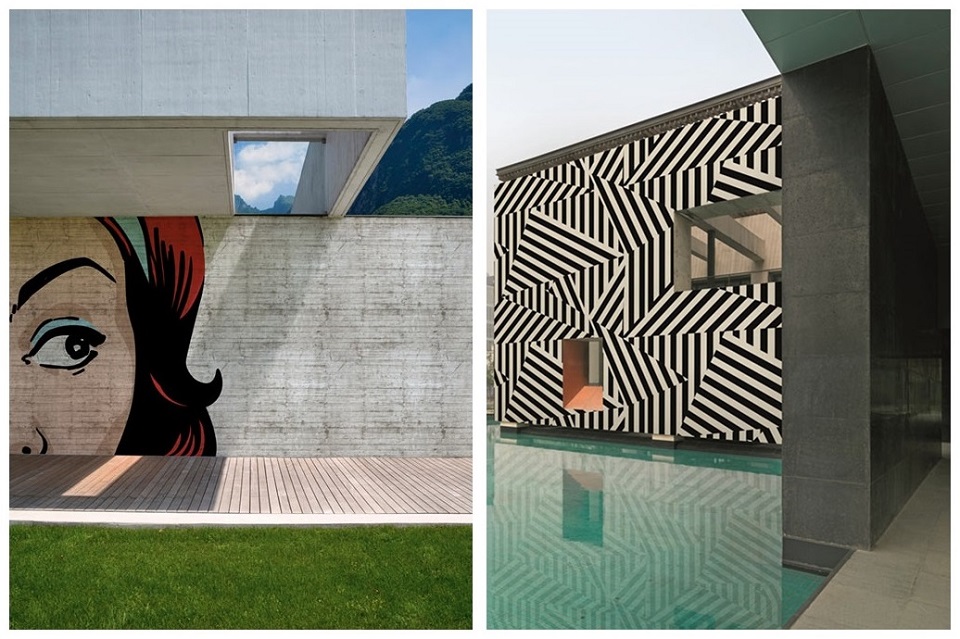 Wallpaper has made a huge comeback over the years, and it seems that its popularity is elevating to new heights in 2015. Companies are producing stunning collections that can be used indoor and outdoor (yes, outdoor!), in bathrooms and on fireplace walls, on ceilings and as beautiful artwork. No longer are you restricted to a repeat pattern either. One image can drape an entire wall. Companies, like Wall & Deco, Rebel Walls and Calico Wallpaper, are changing the way in how we use and see wallpaper. They believe wallpaper design should not be limited by climate, scale, location or conventional wisdom.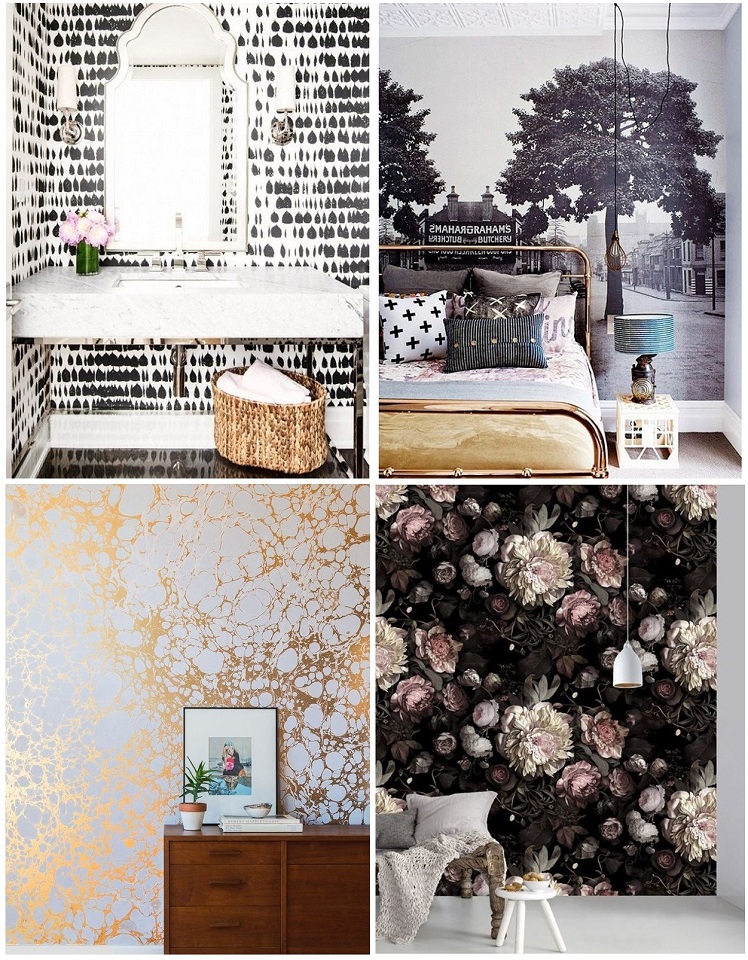 Photos via Domain Home, Inside Out, Calico Wallpaper and Ellie Cashman
Up until recently, many people in the US shied away from wallcoverings. Due to poor designs in the 1970's and early 1980's, pattern on the walls became taboo and everyone wanted a simpler aesthetic. But as of late, wallpaper is pushing its way back into the home. The design concepts today are entirely new, innovative and there is a style for everyone. Wallpaper is no longer seen as a cover-up for blank walls, but as works of art.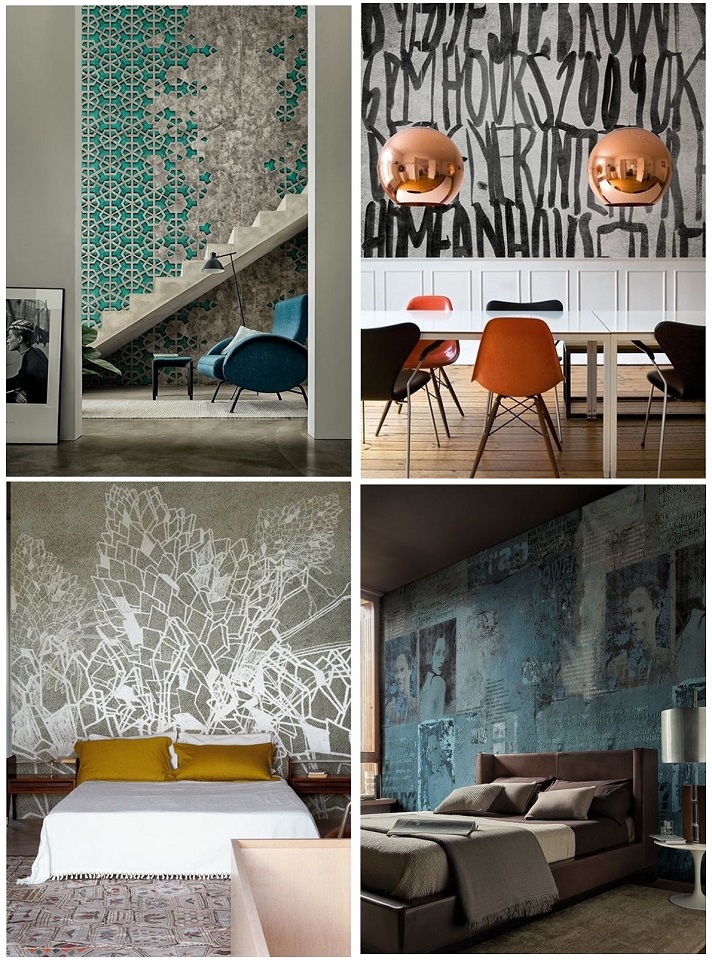 Photos via Wall Deco
I'm a huge fan of wallpaper. I actually jump up and down (and do a little dance) when a client suggests using the decorative paper in their home or office. It's a bold statement that gives so much personality to a room. Wallpaper can take a generic room and turn it into something quite magical. One wall, or an entire room, and the space is completely transformed.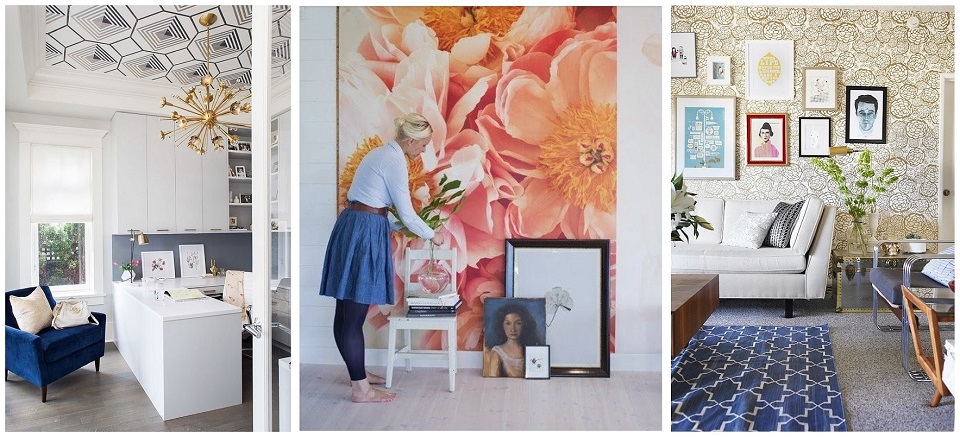 Photos via Home Adore, Apartment Therapy, and Oh Joy!
As of late, I am loving all the new ways in how to use wallpaper. We have come a long way! I never thought it would be possible to dress the outside of a building in wild patterns or one massive image without paint. You can place wallpaper anywhere you choose now, you are only limited by your imagination. Cover an entire room in a panoramic mural, or choose a focal point, like the ceiling or stairwell. Can't commit to an entire wall? Try framing it and hang it as wall art. Whether your style is traditional, modern or somewhere in between, there is a wallpaper for you. The next time you are considering a new design element for your space, think about wallpaper. Step outside the box, be bold and have a little fun.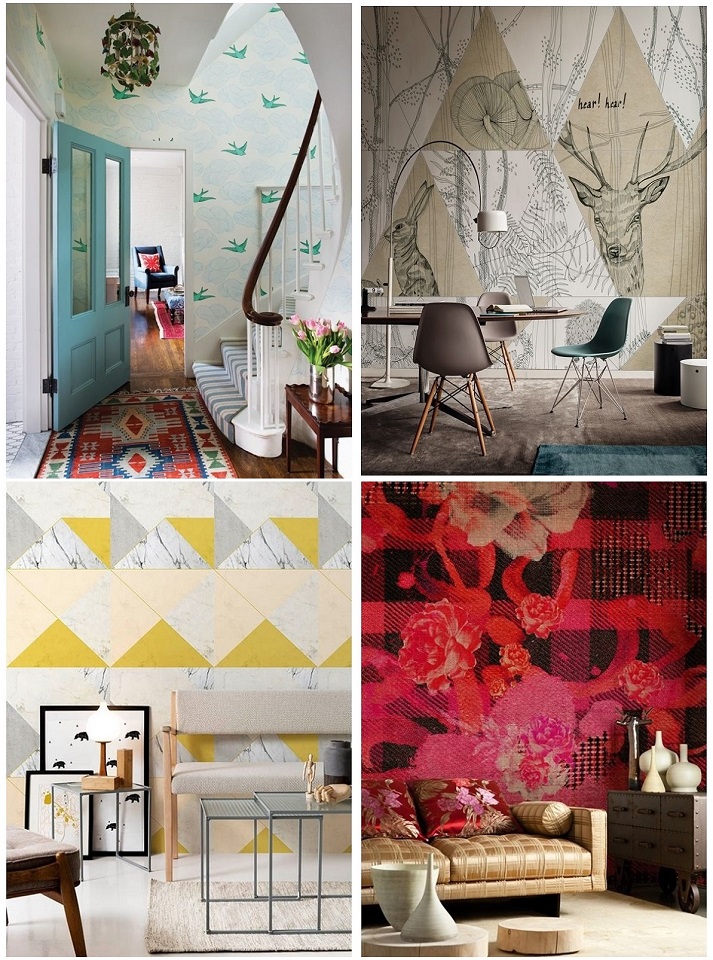 Photos Sources Hygge & West, Wall Deco and Lile Sadi
Favorite Wallpaper Companies:
---