Who doesn't need these candles in their life?! I mean, really…THEY ARE BADASS!
"At Damselfly, it's not all about rainbows and butterflies… We want to hit you in the face, right in the nose, with our triple-scented aromas and then in the eyes, with a killer quote."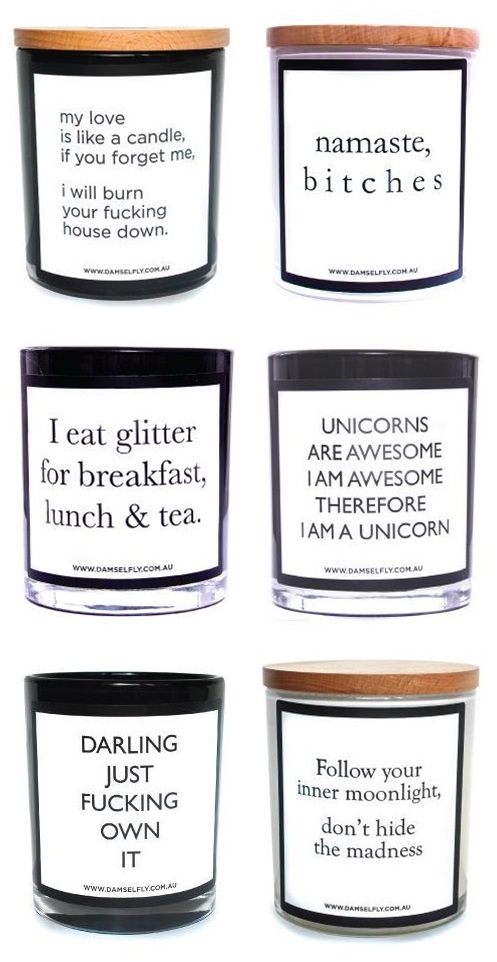 I could tell you a lot of cool things about Christianna Heideman and Damselfly, the creators of this cheeky candle line. But their ABOUT page is so damn perfect, I will not begin to compete. Read below and then try to tell me you don't want to be Christianna when you grow up. Or at the very least, work at this company (possibly, for free).
Damselfly – About
"THE ONLY PEOPLE FOR ME ARE THE MAD ONES, THE ONES WHO ARE MAD TO LIVE, MAD TO TALK, MAD TO BE SAVED, DESIROUS OF EVERYTHING AT THE SAME TIME, THE ONES WHO NEVER YAWN OR SAY A COMMONPLACE THING, BUT BURN, BURN, BURN LIKE FABULOUS YELLOW ROMAN CANDLES EXPLODING LIKE SPIDERS ACROSS THE STARS." -JACK KEROUAC
Over the past 13 years, Damselfly has been acclaimed and respected by Australia's leading fashion houses for it's intuitive vision, innovate designs and trend changing creations in jewellery and accessories. 
Christianna Heideman's love for the aesthetically rich and  otherwordly began at 19 with the creation of Damselfly. After a brief sabitcal  breaking in wild unicorns, travelling to the moon and gathering stars,  Damselfly has been reinvented. Taking inspiration from the beauty of  everyday, Christianna's design now leads us into the treasures of home wares and beyond. The beautifully mad ones, the creative chaotic ones, all  those burdened with the visions of perfection, is where the passion for  Damselfly lives. 
Welcome to this crazy little world..  
---