Consume mindfully and live intentionally. This is the philosophy of Elizabeth Pape, fashion designer and founder of the Nashville-based clothing label Elizabeth Suzann. In a world where fast fashion and mass consumerism are cultural norms, Pape and her company have been advocating customers to buy only good things and buy them less often.
Since the inception of Elizabeth Suzann, I have had a huge design crush on the company. Each garment is designed specifically to inspire you to be your best self, to be comfortable in your own skin and to live your life clutter-free. The ideas behind ES may sound like romantic notions, but don't be fooled. In a matter of three years, ES has become a nationally recognized design label. Proving those "notions" are exactly what consumers want.
In November, Pape moved her company from a small studio to a 10,000-square-foot warehouse. The company was growing at a rapid rate, and it was time to take ES to the next level. The new space has plenty of room for lean production areas for their staff of seamstresses, larger cutting and shipping tables, full-scale customer service and media offices, a large design studio just for Pape and a spacious showroom. Just like the clothing label, the warehouse is meticulously curated to be both functional and beautiful.
ES's latest experiment is The Living Room — a pop-up shop in their showroom featuring local artisans and makers, as well as a collection of Pape's one-of-a-kind sewn work. The pop-up opened two weeks ago, and will be open to the public on Fridays from 10 a.m.-6 p.m. until Sept. 23. I connected with Elizabeth Pape to learn more about this project and her desire to collaborate with the creative community.
The Living Room is your latest ES experiment. How did this concept develop? What's the story?
The concept developed from the convergence of two desires I'd been feeling for a while. One was a desire to stretch my own creative muscles, to make new work that may not be as commercially viable as some of our simpler, staple garments. I was craving an outlet to explore things I might not want to commit to, things I may not understand, things that test my limits of chaos and imperfection.
The second desire was to share things that I love — beyond clothing — with our community. The work of friends, the work of customers and work that inspires me — it is constantly shaping how I see the world and the way I design, and I craved a way to bring those things to light in a public way. Carrying other brands' products was not a concept we'd explored before, but in this format of intentional, heartfelt curation it felt right.
The combination of these two things felt like such a natural representation of my world — like I am welcoming customers into my own living room.
Who are the artists participating in The Living Room? What can customers expect to experience at the pop-up shop?
We have goods from quite a few different artists and brands from all over the world — all of them make things I truly love and use in my own life, and many of them are actually ES customers. Learning about the incredible talented community of our customers has been one of the most rewarding parts of this business.
I will have a collection of one-of-a-kind, personally sewn work. These are pieces that aren't available anywhere else, and a bit divergent from the rest of our collection.
The Living Room will have work available from Katia Carletti, Emil Erwin, Shayna Stevenson, Annie Williams, Maison Louise Marie, Fiele Fragrances, Emily Leonard, Zachary Gray, Land of Women, Jennifer Jeremias, Mary Mooney, Michelle Armas, Julia Kostreva, Melena Cadiz, Liza Anne, Shop ILA, Little Seed Farm and Fecht Design.
In addition to shopping, I want this to feel like a place customers can inhabit and explore — a place to come to see and experience art, listen to records, take in the incredible mural by Emily Leonard, tour our facility, and have a drink in our courtyard. Intimate and personal, and not at all like traditional retail.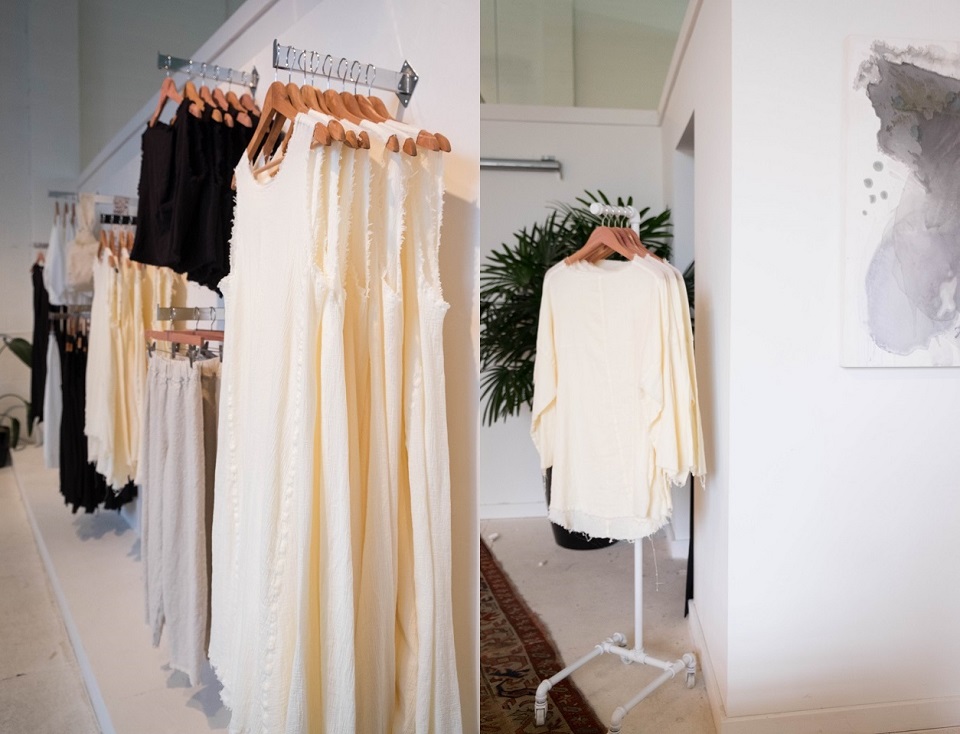 Collaborating with local artisans is not a new concept for ES. Local artist Mary Mooney designed the gorgeous ES paper packaging for your shipping boxes. How did this idea unfold? Do you have future plans with other artisans?
Picturing a woman opening up a package from Elizabeth Suzann is something I do often. A package she's curated with intention, purchasing her favorite pieces, waiting for them to be sewn and shipped — I hope it's an experience that is anticipated, a moment that is enjoyed and savored. I want the fashion in which our garments arrive to live up to the same standards we hold the products to themselves.
I don't like tissue-wrapped packages, especially when delivered by mail. The transportation is rough and no matter how carefully it was packed, by the time it arrives it can't help but look tired. A sturdy, crisp wrapping paper custom-fit to our box sizes was the perfect way to enclose the clothing, but I was unhappy with the idea that so much paper was likely getting thrown out after one use. Particularly for such a specialized part of our packaging, it seemed like it deserved a bit more attention and purpose.
So, we decided to work with Mary to design a custom-painted paper inspired by the color palette of our spring and signature collections. Mary came to the studio to collect fabric swatches and discuss the collection and created an original work in her trademark style of paint on acrylic sheeting.
We had the painting scanned here in Nashville and worked with our local printer to create the wrapping paper. Seeing Mary's abstract interpretation of my work was inspiring and moving on its own, but to know that every customer gets a little piece of art in their box makes me too happy for words.
Art is an integral part of where my inspiration comes from and why I enjoy doing what I do. We are currently working with Nashville-based Emily Leonard to paint a large scale mural on a 12-foot-by-15-foot sliding door in our warehouse. One side faces the showroom and the other side faces our production area. Bringing a beautiful work of art into both of those spaces was so exciting to me (art to benefit both our customers and our employees) — and the door was the perfect canvas. She'll be working on the mural over the next several weeks, and you'll be able to see the first side at The Living Room launch!
Original article via The Tennessean
---