Kilim Never Goes Out Of Style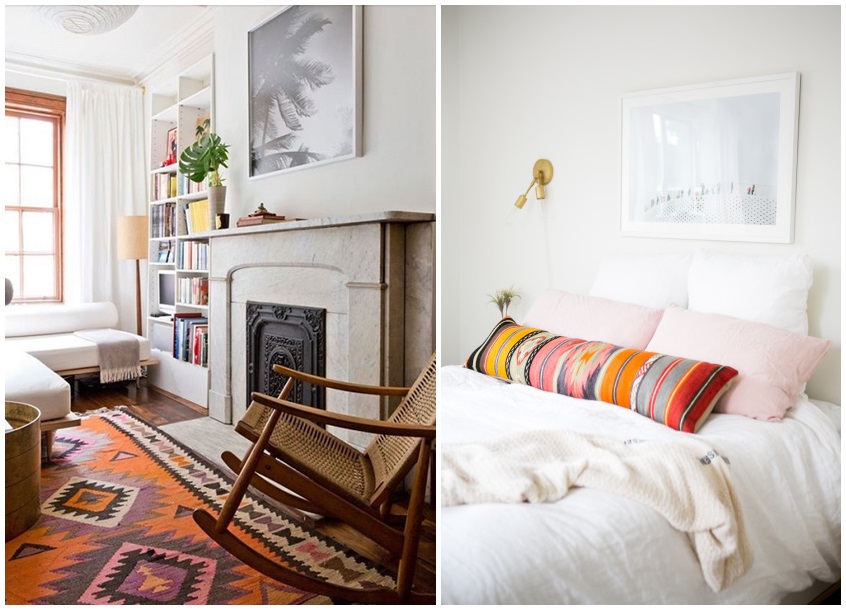 Photo Credit: Coco + Kelley and Barrington Blue
Whether your interior is modern or traditional, there is always room for the rich texture and intricate designs of a Kilim. Kilim, pronounced kee-leem, is one of the oldest woven textiles in history, dating back to 3000 BC. They are a pileless slit-woven rug with bold geometric patterns and colors made mainly from vegetable-dyed wool. The no-pile construction was designed specifically for high traffic areas and to last for a considerable amount of time. Many "vintage" kilims you find today are actually antiques – some are well over a century old. Although these textiles come mainly from Turkey, they are also found in the Balkans, North Africa, Pakistan, Iran, Afghanistan and various regions in China. Each country has a variation of pattern and color, but the traditional craftsmanship, symbols and flat-woven technique are consistently the same.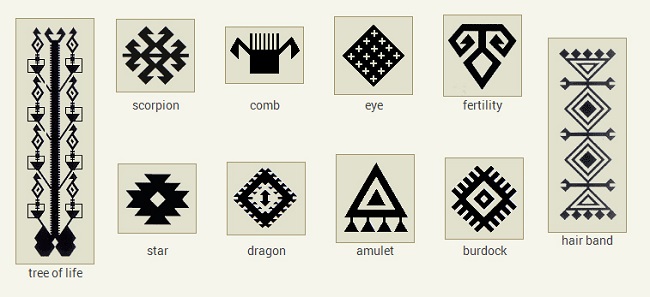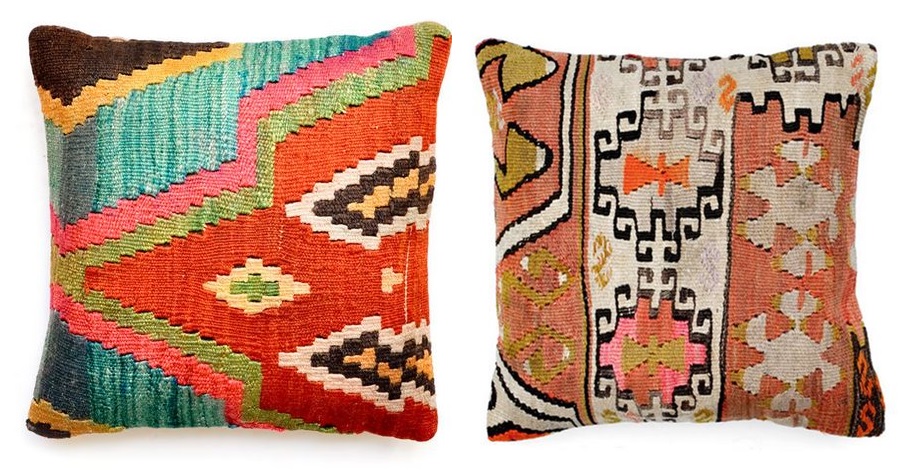 Common symbols found in Kilim rugs and gorgeous pillows from Leif Shop
Kilim rugs have stood the test of time. Global trends have come and gone, and yet Kilims never seem to go out of style. Their exotic designs represents a world gone by – nomadic dwellings lined in bold, bright colors enriched with deep heritage and traditions. Although many of us love our modern conveniences, there is something very alluring about the nomadic life. Kilims have a siren-effect, calling us to take part in their unfamiliar world and ancient stories. No matter what your style may be, these tribal designs will magically find a place in your home.
Rug from Chairish, Chair from One Kings Lane and Shoes by Artemis
Once a Kilim rug has run its course, artisans will then use it for upholstery. They will crop the areas that have thinned and torn, and use the remaining portions to cover chairs, sofas, and stools. Or create pillow covers, handbags and even shoes. It's incredible that after a century, a textile can simply be trimmed, applied to a piece of furniture or an accessory and then continue for many more years looking as beautiful as ever. I don't know how it happens, but when a kilim goes from a rug to upholstery, it becomes textile porn. Yes, it's that good.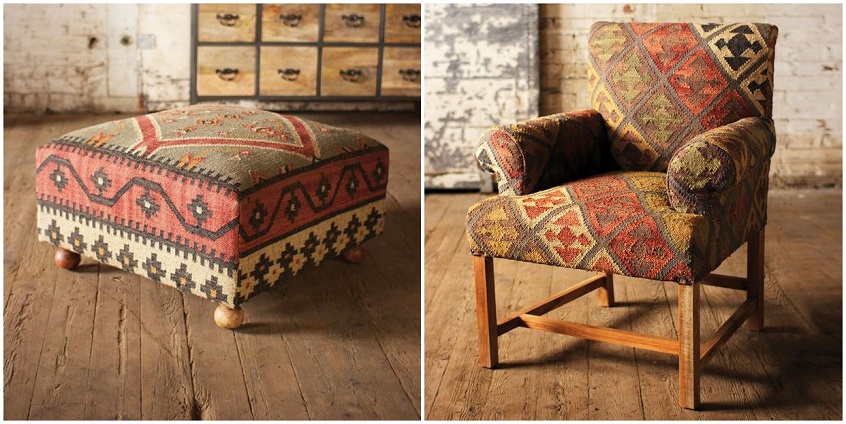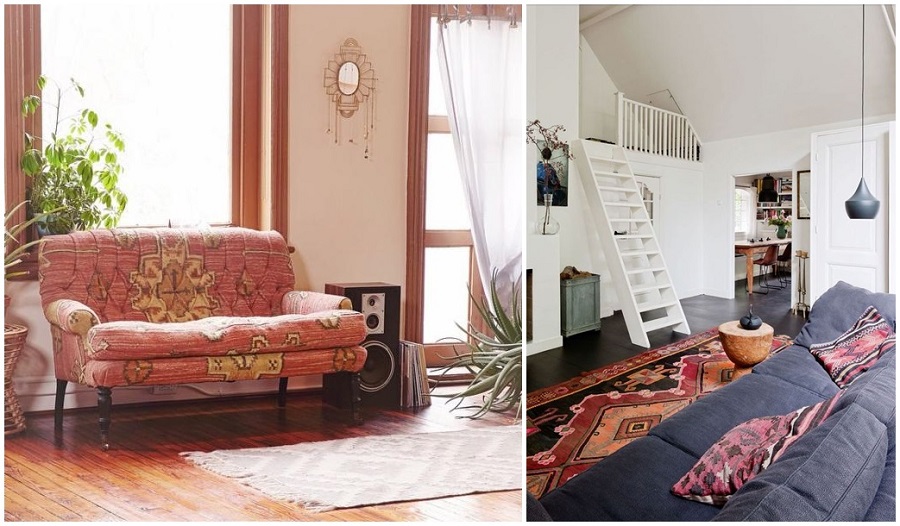 Stool and Chair from Dot & Bo, Sofa by Urban Outfitters and Dutch home featured on The Style Files
Kilim upholstery is one of my favorite design elements to use when designing a space. The pops of pattern and color in small applications allows you to bring in bold patterns without overwhelming the space. Add a few Kilim pillows to a modern leather sofa and you immediately have warmth and texture. Place a Kilim chair in a traditional living room and awaken a sleepy space. Wear a Kilim handbag with a neutral dress, and voila! Instant panache. The options are endless, and best of all, every piece fashioned from a vintage Kilim is one-of-a-kind.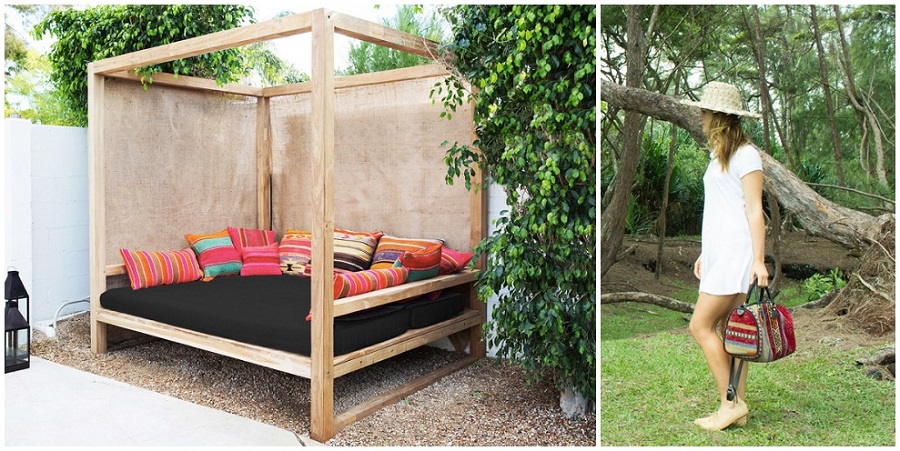 Pillows by Barrington Blue and Handbag by Artemis
Note:
Many of the items I have featured in this post are made from vintage Kilim, so the designs will vary and the availability will be limited. If you find something you like but the item is sold out, don't fret. Many companies that sell Kilims will give you the option to be notified when the item will be restocked. Just remember the designs are vintage, so no two items are exactly alike.
---
Leave A Comment