Andra Eggleston – The Storyteller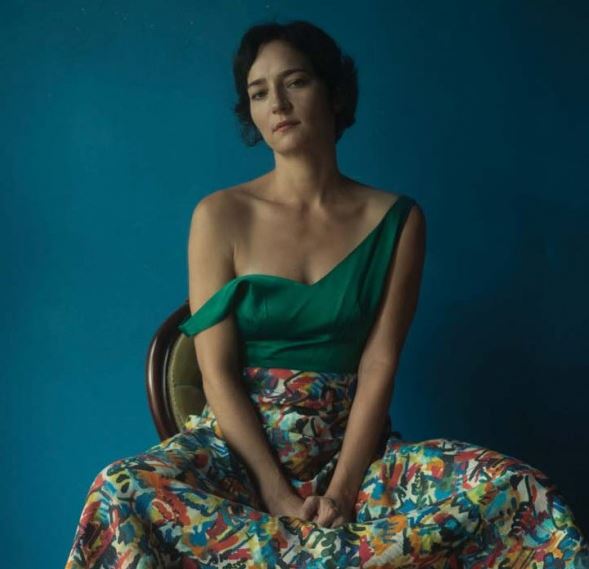 As I enter into the alluring Wilder boutique, I am mesmerized by each piece of art that has been hand-selected by owners Josh and Ivy Elrod. The space is deliberately minimal, well curated and full of unexpected finds from around the globe. I am meeting Andra Eggleston, a talented textile designer who happens to be the daughter of the legendary photographer William Eggleston.
Andra is a strikingly beautiful woman, like someone out of a French painting. She's wearing a vintage-style black dress with electric blue piping from Paris. The warmth in her smile and the depth in her eyes are quite enchanting. I know this is going to be one of those interviews where I will leave with so much more than what I came in with.
Andra is debuting her textile line, Electra Eggleston: William Eggleston I Collection at Wilder on April 18th. The vibrant collection is derived from her father's drawings that he had been creating since he was a child. She has carefully reworked the patterns, playing with color and scale, and then printed them onto beautiful Belgian linen and cotton. The fabrics are vivid and intoxicating, very much like William Eggleston's photography, but uniquely Andra.
Wilder plays a unique part in the debut of Electra Eggleston. So the Elrod's join Andra and me in the "living room" of the store and we enter into a delightful afternoon of stories.
Me: Talk about Wilder, your vision, and your relationship with Andra.
Wilder (Josh): It's gonna be fun to talk about Andra. She couldn't be more representative of exactly what we hoped would happen here.
Wilder (Ivy): We come from an artist's background: performers, musicians and visual artists—Josh is a painter. We are really motivated by collaborations and relationships—bringing people together. We had known for a long time we wanted to have a business together. I think our background in film and theater, it forms this idea of creating space and how that changes, in how you feel and what you are experiencing. We change it up in here, like daily. It's an evolving thing, not static.
Wilder (Josh): Making transitions from performers (I worked with the Blue Man Group for ten years—health issues/surgeries), it was pretty clear that I had to stop doing it. So what did that look like? What would this energy and time look like? So, we thought about doing a store in New York. But it just didn't feel right. It was going to have to start on a very small level and be sustainable. And we would both have to be hustling other jobs. It's just not how we wanted to be able to fully embrace Wilder. We didn't want it to be a side project or hobby. We wanted to dive in. And Nashville, it's just different.
Wilder (Ivy): If you start out with an idea and the pursuit reveals more, that's usually the more exciting work for me. And that's how it's been. Josh wrote on his January 1st intentions on Instagram. One of the things on the short list was to connect with a textile designer. And we literally met Andra days later. He was so inspired by the painterly translation onto fabrics.
Wilder (Josh): To be able to create a tone, and bring in our visual background and storytelling of where we come from, and bring these things together. It's something that we are very much moving toward.
Wilder (Ivy): We met at an art opening a couple days after the Instagram post. Josh and Andra started talking, and Andra mentioned that she had this textile line and she gave him his card. And we have just been long time fans of her father, William Eggleston, that it took Josh back by surprise. He was in such awe with Andra's card, he could only get the words out "are you of the same?" (Everyone laughs).
Andra: "are you of the same?" And I knew exactly what he meant, and I said "Yes, yes I am". I am the daughter of William Eggleston. (Everyone laughs again).
Wilder (Josh): I'm pretty sure I have never said anything like that. But I am the guy who went to both of his big exhibitions and had tears in his eyes. And then we had a meeting, a slumber party business meeting. We really connected. And we just knew it was meant to be.
Me: Andra, you left New York for Nashville. What prompted the move? Why Nashville?
Andra: Actually, my husband is in the music business. We almost moved to LA. I had lived in LA for over a decade, before New York. So we made separate trips out here and kind of looked around. I looked at houses and every time we talked about Nashville it felt fresh, exciting, a sense of possibility, like hopeful and unknown. And then every time we talked about LA, it just felt quite complicated. It just didn't feel fresh. Fresh, that's the best word that I can use to describe what we were wanting.
Me: So you were looking for something new?
Andra: Absolutely. Definitely. Something new. I love New York just as much as these guys (Wilder). And I miss New York, it's the greatest city in the world. However! There are things that Nashville has given me that I didn't expect and I'm not even sure I was looking for. Like this sense of support. This naturally progressive, supportive approach to things. I appreciate it so much.
Me: That's the thing about Nashville. If you find the right people, they are going to be excited for you and want to connect you. Isn't it exciting to be a part of that?
Andra: I know! Everyone I met was like a reflection of how excited I was about my project. They were just as passionate about it as I was. And naturally what happened with Ivy and Josh was incredible. We had a total meeting of the minds in our first meeting. You know, we had an equal passion for how important what was behind the product, as much as the product itself. We didn't think we would be debuting our line in Wilder, let alone Nashville. We thought we would be debuting somewhere on the east or west coast. We didn't actually think we would find anyone who would really respond to it. And that was really important to us. And then it just happened.
Me: You need to have that on both sides. As a store owner, you need to be excited and passionate about the products you carry. And as a product designer, you need to have people believe in your product.
Andra & Wilder: Exactly! (simultaneously)
Me: You live in East Nashville and your studio is in the Wedgewood-Houston Art District, correct?
Andra: Yes, I started at Fort Houston and then I moved down the street, right next to the Julia Martin Gallery.
Me: Both neighborhoods are chock-full of artists, makers and young entrepreneurs. Tell me about your experience living and working in Nashville. And how does the artistic community in Nashville differ from your experience in New York and LA?
Andra: I think definitely the difference I've seen is the artisan presence here. It's very prominent here. The artisan community has somehow woven itself into the "art" community. I think it's really nice…I just feel so lucky, by the way, to be in the Houston-Wedgewood area. I could not feel more fortunate. I started at Fort Houston, in an environment that was really good for me. I was around people who were working with their hands. And that was so inspiring, and so energized. What I will say about that area is it's this great combination of artists and artisans, a social outlet, a real community. I do think from my experience that the culmination of artisans, these makers, affects my environment and creates this incredible sense of community. And that even flows into fashion and art. I just love that Fort Houston has a bike shop in the midst of all these artists. It's just so cool to have the mixture.
Me: Has Nashville influenced your artwork? I know your father's drawings are the source of your collection, but has Nashville had an effect on you? Did it influence the direction of your collection?
Andra: I won't say with the artwork itself, but I will say with the product development and the actual manufacturing, yes. When I first started, I had dreamed of having everything American made. But I didn't think it was going to be possible. And I have really been pleasantly surprised by how many things I have been able to accomplish locally and regionally. Our pillow inserts are made in Tennessee; our fabric is printed in North Carolina; the furthest we have gone out for sourcing is Rhode Island. Our pillows are being cut and sewn in Nashville, right outside of the city. There are just so many things, so many parts involved. And this city is about to explode with opportunity. It's becoming easier and easier for someone like me, with a dream, who is just starting out. And it's all possible.

Me: It must be so exciting to be on the front lines of this industry shift—to have the possibility to create locally and regionally.
Andra: It is exciting! Be careful what you wish for in this town, it actually happens.
Me: Do you feel like the pressure here is less intense? Do you feel like you can take your time, and be more mindful about your vision?
Andra: Well, there's always pressure from myself, which surpasses any other pressure. But I absolutely feel that way. It took me awhile initially. Before my partner even came on, I was developing for a year. Developing the brand, working with my father, going to Memphis a lot, showing him a lot of the prints, getting samples, taking the time I needed. So yes, I absolutely feel that way. The pace here is so nice. It's a unique pace. It's a pace with intention. The people are intentional.
Me: Who is Andra Eggleston? How would you define yourself?
Andra: I would define myself as someone who is actually quite shy—very sensitive. And I, too, have a performing arts background. I have very strong-willed, character-driven parents, and they have their own stories. So I would say the only way that the textiles have been truly fulfilling for me creatively is because of all the stories between me and my dad. And how that inspired the brand and the inspiration of the debut line.
Me: It's quite beautiful to hear from you personally that you are driven by stories. That's not just a marketing strategy or theme, but it's truly who you are — you are inspired by stories. It's really beautiful to meet someone like yourself.
Andra: Thank you. It's what drives me, truly. It's driven me. And the thing that gets me through that is that connection to the story. The connection that brings out my own intuition and insight, to see the bigger picture, the larger perspective, and I do rely heavily on that.
Me: Do you see a story in your father's drawings? Did you feel it was important to pull that story out, release it, and share it with the people?
Andra: I think I was driven to connect—because I love connecting with people. I have no patience for inauthenticity, and that is another reason why I responded to Nashville—because it is so authentic! I do not have a typical relationship that one would have with their father. He's an iconic artist. You can imagine what his personal life was like. And so I was very driven to find a way to connect with him. More often than not, we are speaking another language. We are two very different people. But when we talk about textiles, magic happens. And that opened up a door into him. I see him and I think "I don't know what to say to you right now." But if I talk about prints, if I pull out a book of textiles, there is something that we share there. We've created a language. It opens him up. Things just become fluid. And that is what inspires me. It is my heart.
Me: It's really important to me to know the story of the individual. You are a fascinating person, not because you are William Eggleston daughter, but because you are Andra. It's apparent that the drawings were the start point, but everything after is your creativity and vision.
Andra: I didn't even really realize it, until people say it back to me. And it's just so nice to hear. Because it can be very challenging to live in someone's shadow.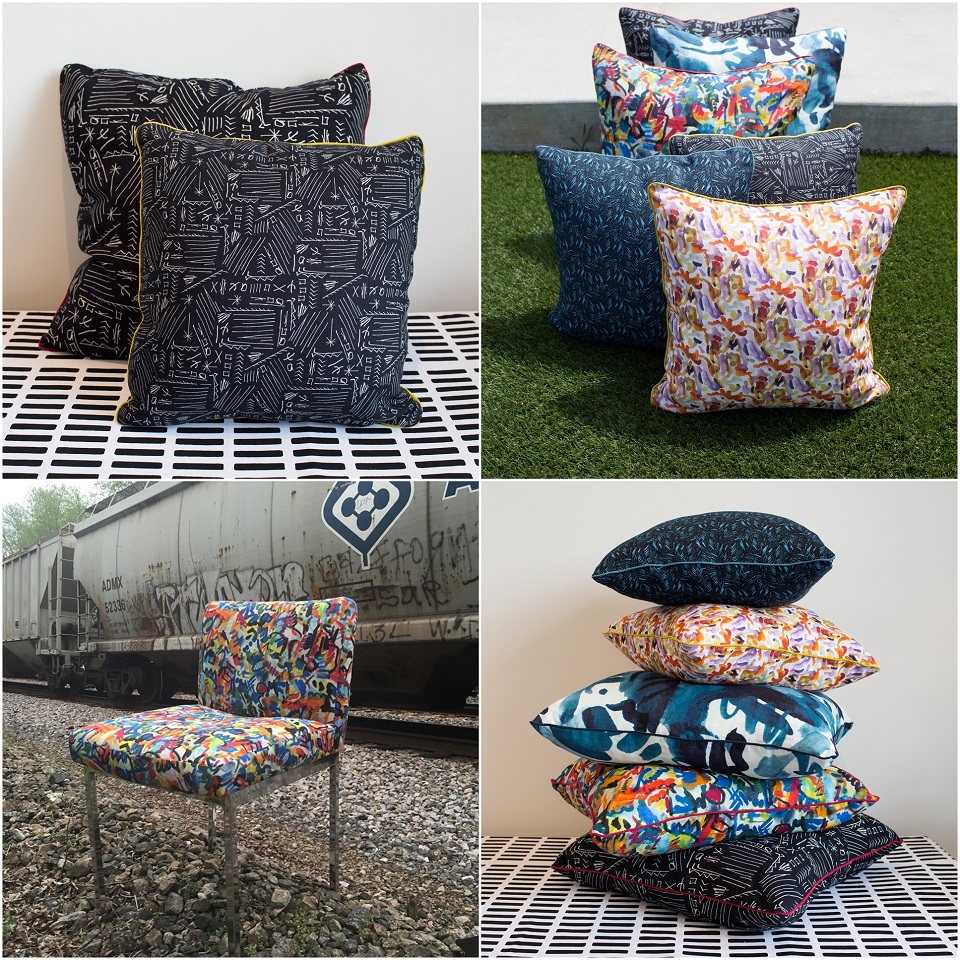 Me: We know the inspiration of your collection, but how did you decide that these textiles were going to be in home decor? How do you envision the collection being used?
Andra: I feel like I had tapped into something that had so much potential. It could have gone anywhere. When I started, I actually thought I was going into fashion. I wanted to pair up with a designer. Because I love designing, I mean I went to fashion school for textile design. So I have such a respect and appreciation for fashion. So I thought about that, but every person that I spoke with that I really respected their input, always had a different vision for it.
Me: How did it make you feel when people suggested their idea? When people start making suggestions on how and where something can be used, you often realize that you see it differently.
Andra: Well, this is something I haven't really talked about much in an interview yet. But I have always had this dream. This dream of somehow capturing that feeling that you get when you look at one of my dad's photographs. This incredible sensual desire of want. Like you see it and you have to have it. You must have it on your wall. But you can't because it's too expensive. And so you just stand in this gallery, and you start crying because you are in awe and you yearn to have this piece. It's this visceral thing. I've always wanted for anyone to be able to pick up a fabric and have that same feeling. And then that begged the question of fabric. What would be the most useful way to use it? What would be the most accessible way that you could use fabric? Sit on it! So that's where it started. I was like "Can you imagine having that feeling about something, like being wowed by a textile in the same manner as the photograph?" Like Josh and Ivy just got curtains. And they were freaking out. You look at these curtains and they feel like a giant canvas. This large scale artwork on the wall, and it's a curtain. It's just a curtain. You raise it and it's useful; it has a duality to it. To me, it's a functionality and an accessibility that inspired me to go into home decor.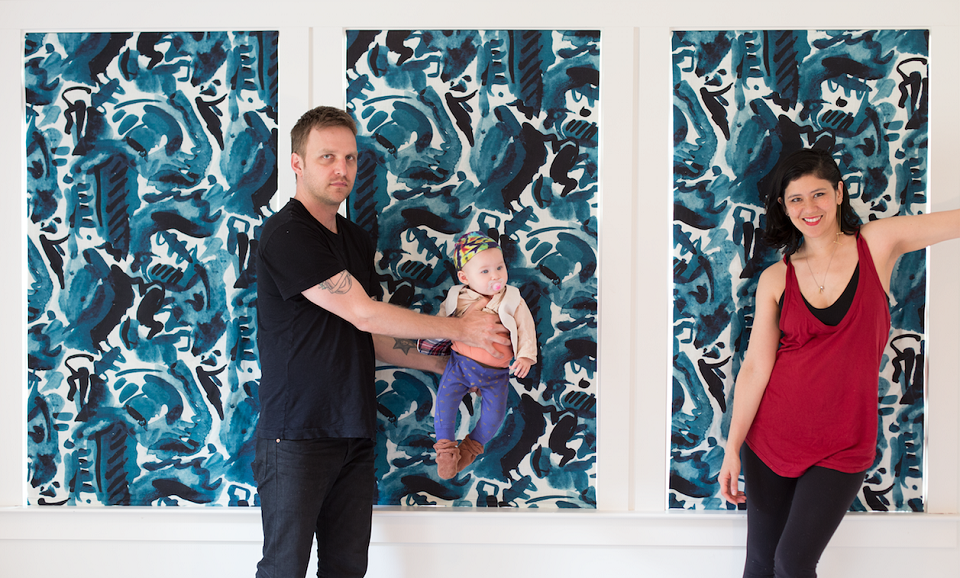 Me: Do you think you would venture into fashion?
Andra: We will. That is something we are working on for our next collaboration.
Me: You are not wanting your design to be replicated, it's intended to be an original work of art. To be it's exclusive.
Andra: Exactly. It's what we are really hoping for.
Me: You mentioned a collaboration in fashion.
Andra: Yes. We are talking with a lot of different people. But our first, definite collaboration is with Otis James .
Me: Otis James doesn't have anything like your prints. That's a whole new look for him. His bow-ties are often muted with a more classic aesthetic.
Andra: It really is a big departure from what he has been doing.
Me: So when are the bow-ties coming out?
Andra: They are coming out for Father's Day, actually.
Me: Let's talk about what is being debuted. You have the fabric collection and then a wallpaper line has been mentioned. Will the wallpaper be a part of this launch, or will it just be the fabric?
Andra: That is separate. It is just the fabric and pillows. This collection is called William Eggleston I, it's our debut collection. It's based on five original pieces of artwork, which will be shown here (Wilder). And then 15 subsequent prints. Varying in art prints and color. The designs will be printed on Belgian linen and cotton/linen.
Me: So tell me your involvement of the textile design. Where do you fit in the process?
Andra: I am involved with everything, but my main role is creative director. To date, I would say my biggest part is editing the artwork, which is the start point. Color is a big component. It's what's really important to me, and it happens to be something I am really good at. Sometimes I don't feel like an artist, more like someone starting a company. But the part that is very fulfilling as an artist is the need of telling a story, that emotional connection to something. And holy cow, I found it in a textile design company. Who would have thought? I am just so grateful for that. And that is actually being fulfilled. I don't miss acting. I mean, I do auditions. Which, I hope I'm not called in to play a role in Nashville next week (the debut is on the 18th). (She laughs)
Want to know more Andra and her collection?
The premiere of Electra Eggleston: William Eggleston I will be held at Wilder in Germantown on Saturday April 18th from 6-8pm. RSVP at info@wilderlife.com. 12th Table will be co-sponsoring the event on the back patio featuring a signature Electra cocktail and other goodies. For more information, click here.
Photos courtesy of Wilder and Mackenzie Maroney
---
Leave A Comment