Last month I wrote about 2015 home decor trends for 12th & Broad. I have had so much feedback from the column, I thought I would share it here as well. Enjoy!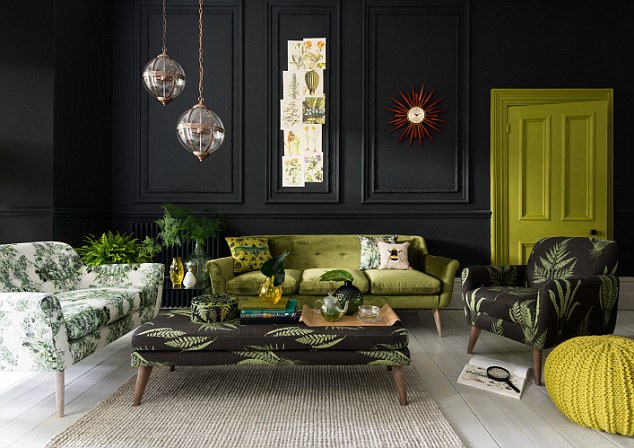 Luxury is the word on the street for home décor this year. Metallic pendants, velvet tufted sofas and sensual colors, 2015 is going to be high on style and you don't want to miss out. Here are my top favorite trends popping up this year:
1. Warm Metallics – Mix it Up
Warm metals, like brass, copper and gold, are one of the biggest trends this year. From lighting to furnishings to home accessories, these warm metals are making quite a statement in home décor. No need to keep your metals separate. The more you mix them, the better. Use sparingly, as they should be a statement piece not your entire room.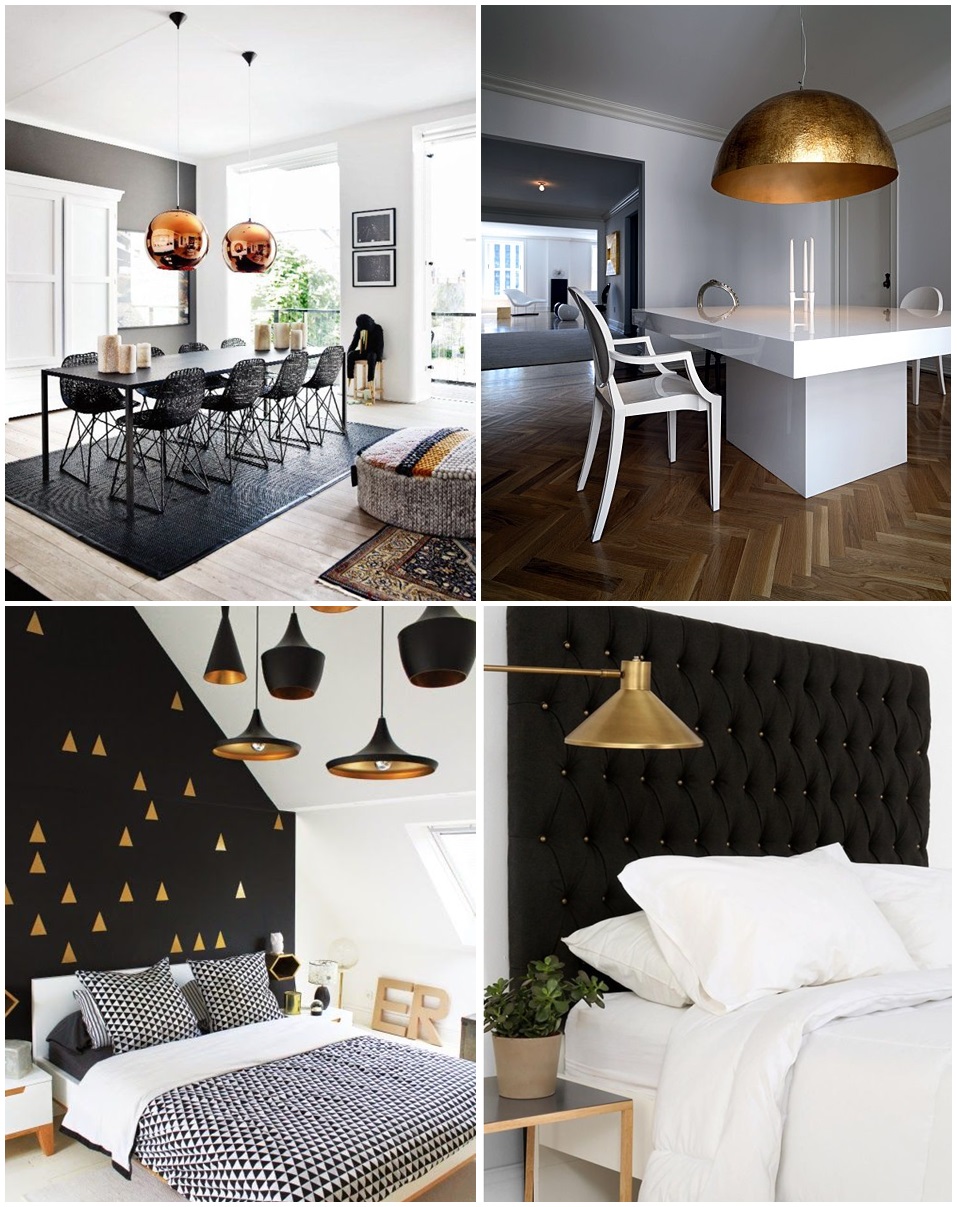 2. Décor Luxe – Tufted Velvet
Oh how I love a good velvet sofa! Especially tufted and in a bold color, like this stunning blue. Such luxury and high style. And now is definitely the time to purchase one. So many manufacturers are creating beautiful chairs and sofas in different velvet styles and choices, the options are endless. Look for a classic style that can be paired with any type of interior design.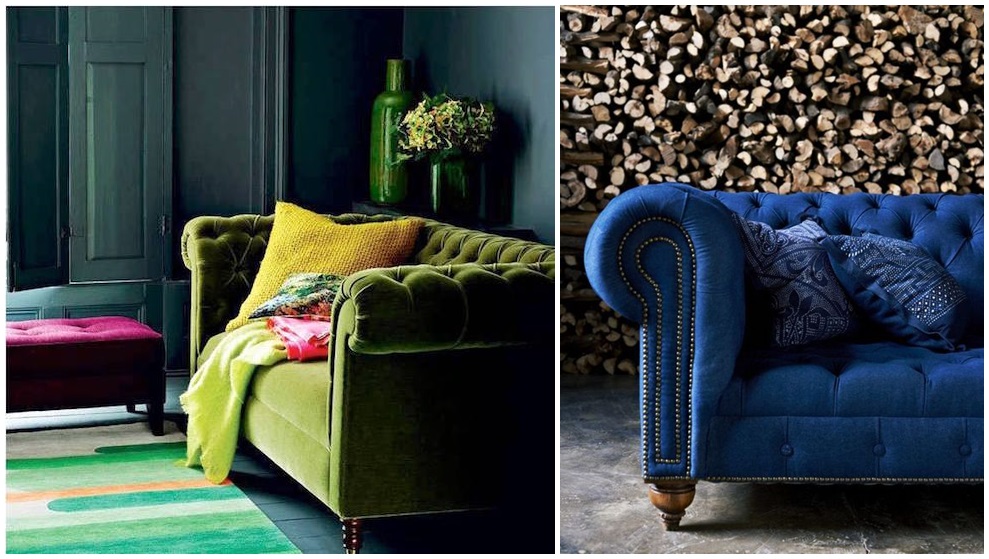 3. Pantone Color of the Year – Marsala
The 2015 color of the year is not my favorite color for home décor. Marsala reminds me too much of the mauve, maroon and green phase of the eighties (shudder). But! When used sparingly (think jewelry or a dark lipstick) it can be a gorgeous accent. Paired with whites, dusty pinks, and grays, and you have stunning color palette. Lean towards a modern, monochromatic style to keep things fresh.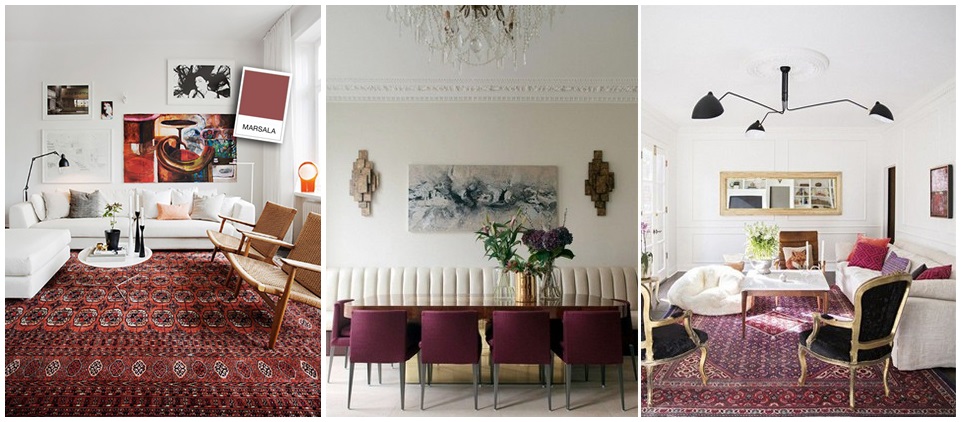 4. Color Trend – Moody Pastels
You will be seeing two different color styles this season, rich deep colors inspired by the Mediterranean and soft dusty tones inspired by "Monet and Molly Ringwald". The Monet meets Pretty in Pink, is moody and yet playful. Lots of grays, dusty pinks and sea blues.

5. Color Trend – Emerald & Olive Greens
Green is big this year, and it can be found in the forefront and the background. Pair bright rich greens with neutral tones or pair muddy antique greens with bold colors, like a bright blue or orange. Don't be afraid to use green on the walls or in a large piece of furniture (probably not best to do both). And mix it up! Layer with lots of textures, tones and patterns. Combine old world style with modern, contemporary design.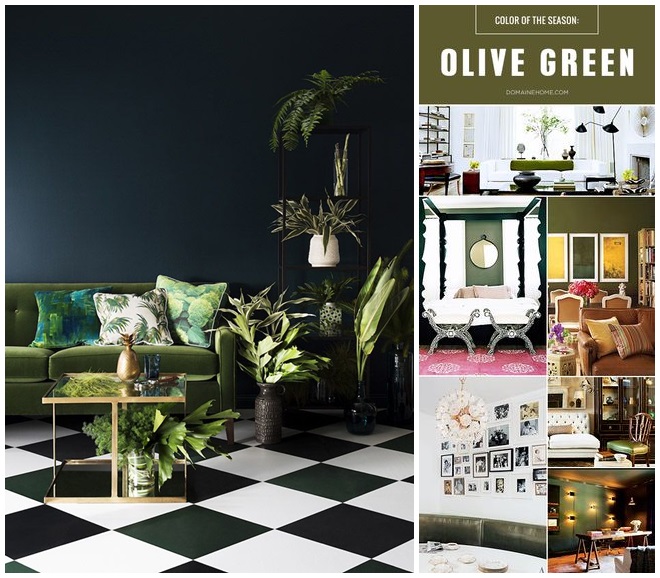 6. Lighting & Furnishings – Geometric Wire
The geometric shapes in home décor are not going away any time soon. You are going to see a lot more fun geo shapes in lighting and furniture this spring. Wire designs in warm metallic finishes are very popular, and you'll see them paired with exotic woods and marbles. This style is high on luxury, so go for the higher quality pieces.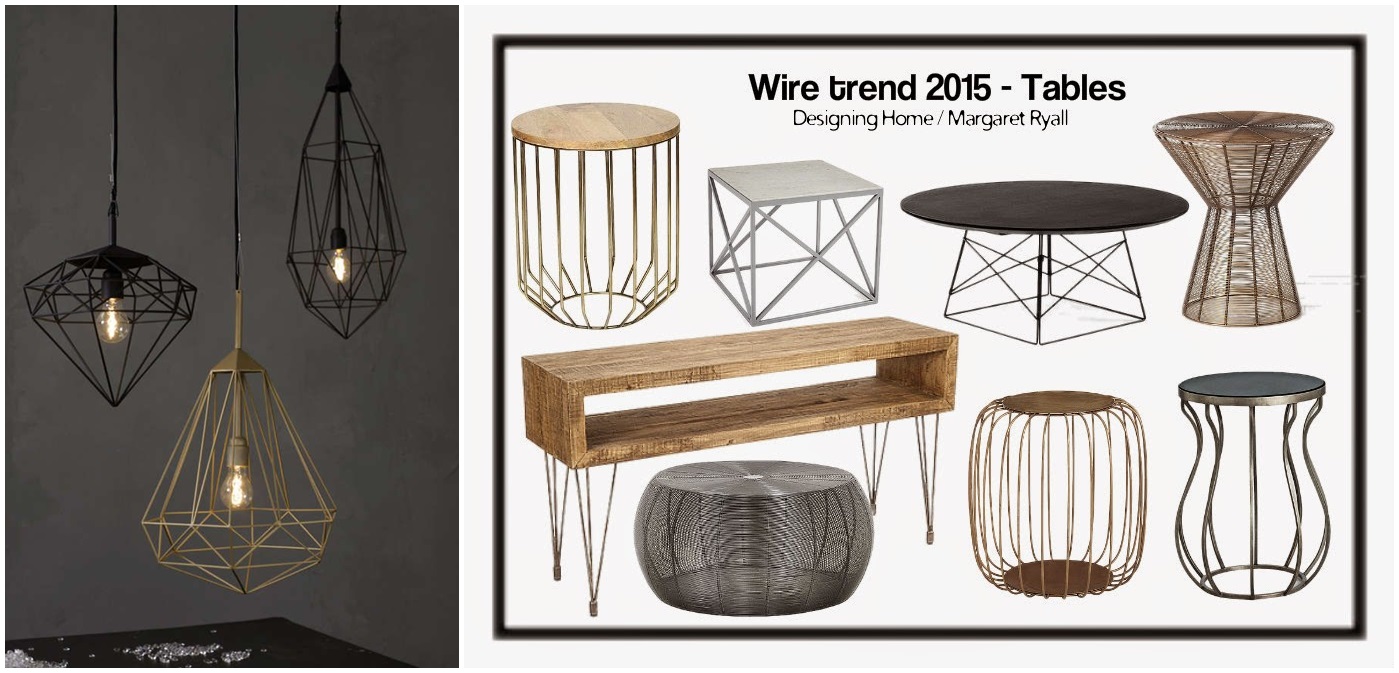 7. Color Trend – Mediterranean Blues
Beautiful, rich blues from the Mediterranean Sea. This color has so much mystery and character, it immediately transports you to another place and likely, another time. You will see this color in pillows, sofas, paints and tile. It can be used as an accent, or drape an entire room. Pair the rich blues with bold colors and lots of texture for an exotic bohemian look, or pair with neutral grays, whites and metallic for a modern style.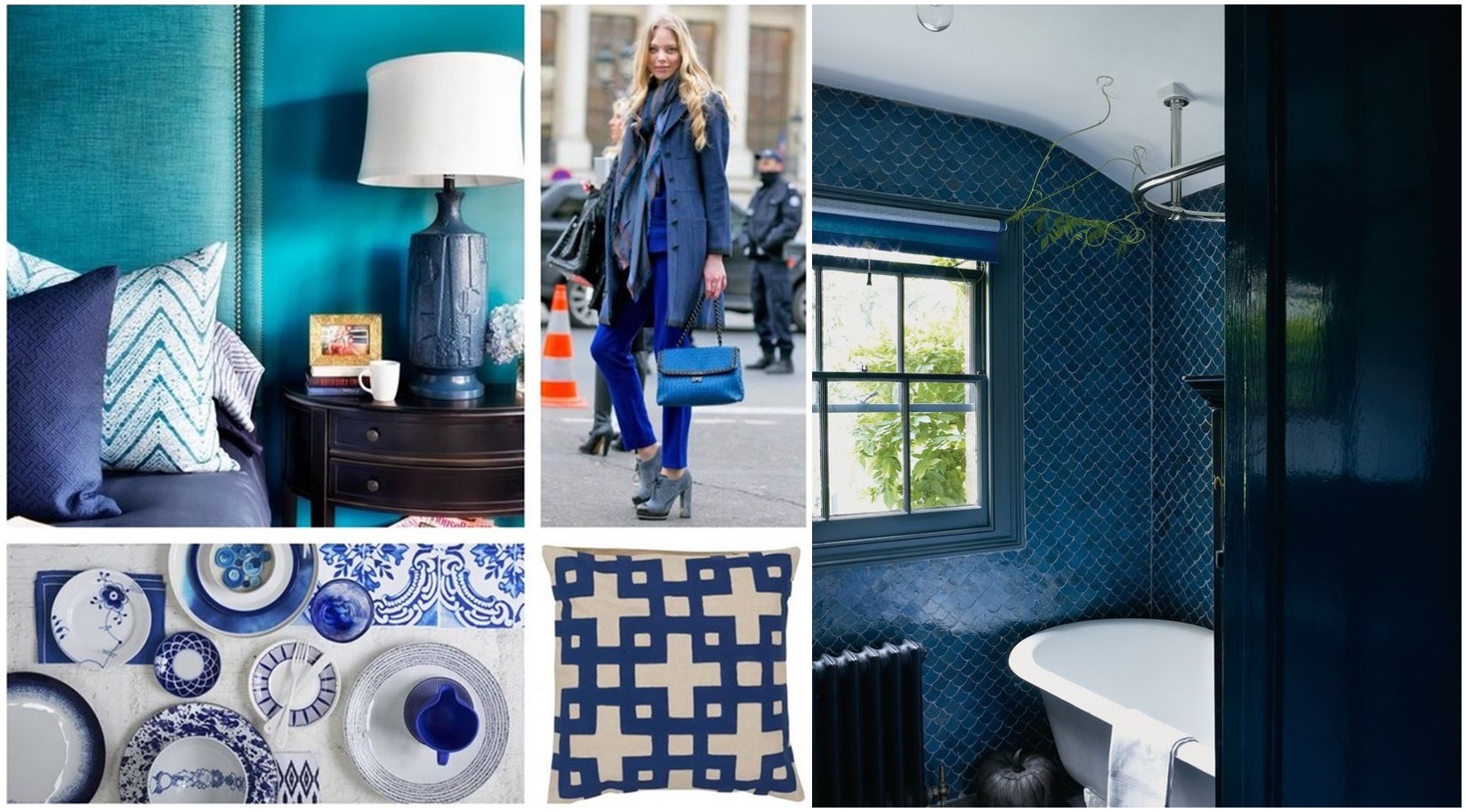 8. Nature Indoors – Go Big
Last year we saw lots of tiny plants dazzling interior spaces. This year, the trend is larger plants and trees. Like the fiddle leaf fig tree, the pencil cactus or a citrus tree. Place in neutral color, clean-lined planters. Keep it sleek, modern and intentional. Think of it as a work of art, a sculpture and give it a designated location that accents the rest of your furnishings.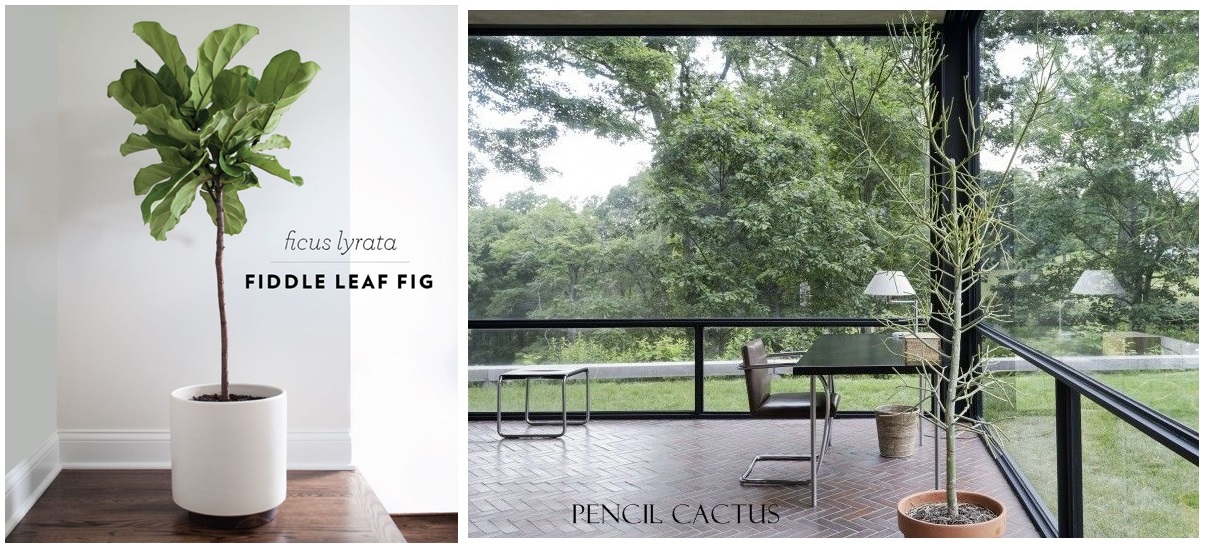 Top Photo: Copper Blush and Green via Dulux
---