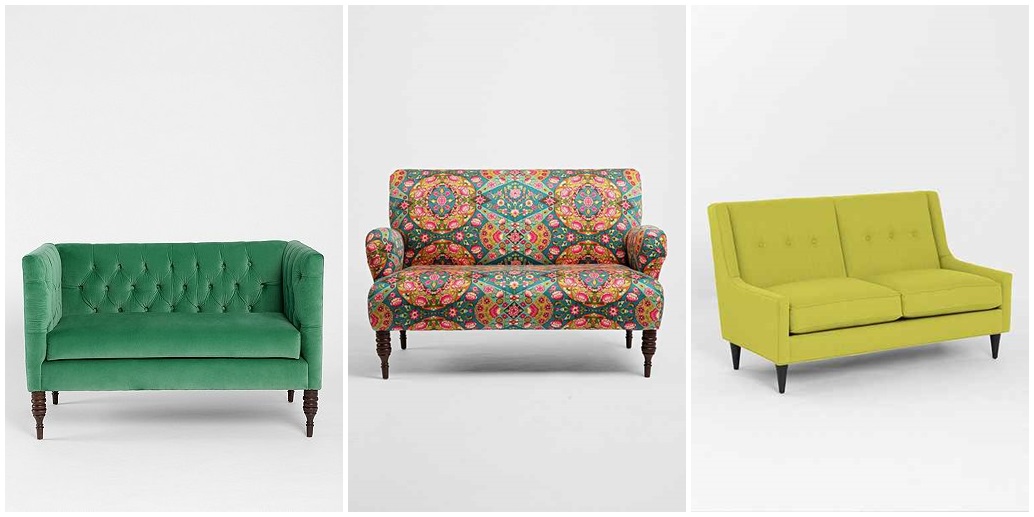 A few years back I bought a $20 vintage sofa (BIG spender here) from the sweet elderly lady across the street and placed it in my dining room. I have this funny little nook in the dining/kitchen area that serves zero purpose. Due to the low window placement, a buffet would look awkward. So instead, I placed a loveseat under the window. Not only does it look great, it's been a wonderful spot for guests to sit while I'm cooking.
Fast forward to last Christmas. One of the wood arms came completely off by someone simply putting their weight on it. And I pretended that the incident didn't happen. Completely ignored the fact that I was strutting a broken sofa and stuck a cool new pillow on it. A pillow totally covers up the fact that one side of the sofa is missing….right?
Almost a year later, and I am finally looking for a replacement. And guess what? I'm excited about the change. This week I found all these delicious loveseats and settees from Anthropologie, Urban Outfitters and West Elm. The tufted velvet and the bright colors this season have me swooning. Letting go is not going to be difficult with all these beautiful choices.
Which do you like?
{From Left to Right: Plum & Bow Tufted Settee, Nicola Loveseat, Georgia Loveseat, Ava Velvet Tufted Sleeper Sofa, Elton Settee, Velvet Orianna Settee}
---